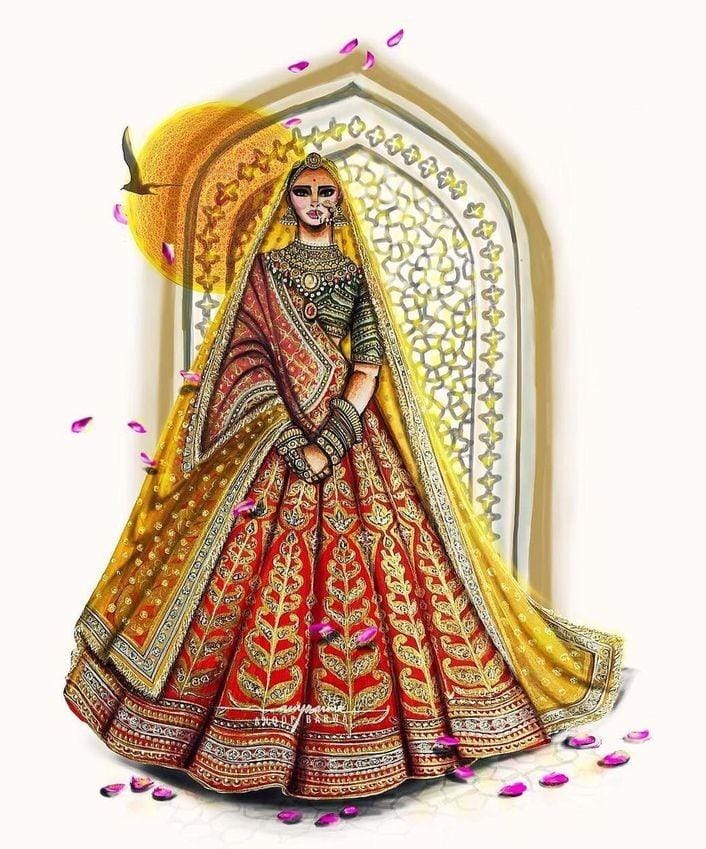 Indian bridal-wears are coveted for their gorgeous and richly decorated forms. The grandeur of the attires is supplemented by the diversity that these are available across the different regions in the Indian subcontinent. Few are discussed below:
The traditional bridal dress in Kashmir is called the 'Pheran'. The pheran is a combination of Indian and Iranian dressing.
A Maharashtrian bride wears a traditional saree called 'Nauvari'. The saree is usually a bicoloured Paithani with golden pattern border.
The Rajasthani bridal dress is a heavily embellished Lehenga or a saree. The Marwari community belonging to this place has heavily decorated bridal attire with gold and silk thread work. The chiffon Dupatta called the 'Odhni' is a very important part of the bridal outfit.
The Gujarati bride wears a 'Panetar' for the wedding, which is a bridal saree usually with colours red and white. The saree 'pallu' is kept in the front instead of the back.
The bridal outfit in Uttar Pradesh is usually Lehenga Choli with rich embroidery. Red is the usual colour chosen and the dress can be of silk, velvet or crepe. Gold Jewellery adorns the bride with 'choora' bangles and 'bichua'—the toe ring which is very important for a U.P. bride.   
The wedding in Punjab takes place mostly on lines of the Sikh tradition. The traditional wedding dress is a Salwar Kameez or Lehenga. The brides are gorgeously decorated head to toe. The colour chosen is mostly red and the entire dress is exquisitely decorated with beads and embroidery.
The traditional Bengali bridal wear is the Benarasi silk saree. Red is the traditional colour, but similar shades are also worn. The saree has beautiful golden Zari work all over. Gold jewellery is worn all over.
Conclusively, we can say that sarees are the common Indian wear for women, the traditional bridal wears show interesting variations according to regions. Lehengas, Salwars, and Ghagras can be found more commonly among Northern and Western brides. A Saree is common for the brides in the East while it gets modified in the North East. In South India, while the Saree predominates, the style of draping, colour choice and even adornments that modify the look of the saree bring wonderful varieties.
If you are planning to be a successful Fashion Designer or an Fashion Artist, so don't waste a Lil bit time. Join #1 Best Fashion Design Course Institute in Kolkata ( Gift Design Academy)