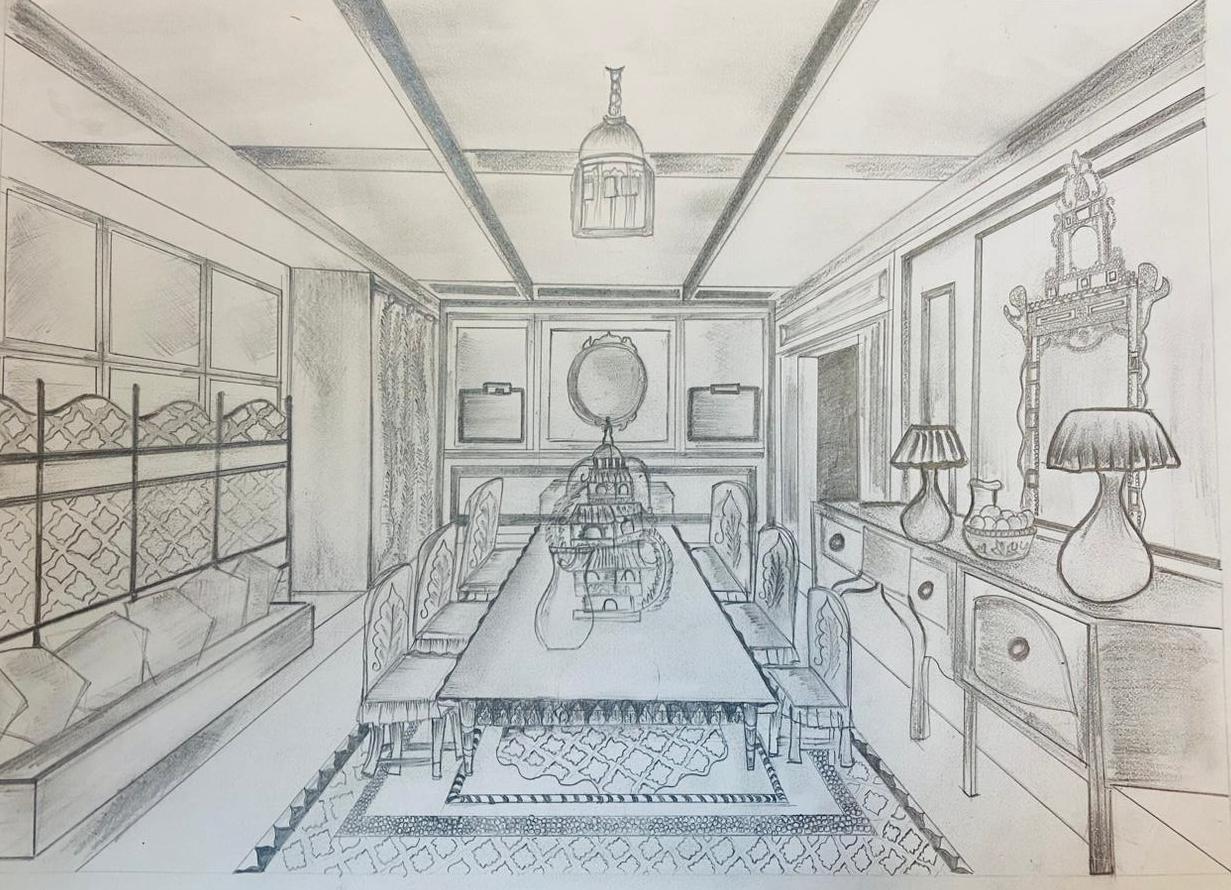 Well, if you seeking for the best interior designing course in Kolkata then you are at the right place. Today, we have a lot of options but the best decision will elevate your life and career to their pinnacle.
Don't delay, enrol in our interior designing course and begin your career as a professional interior designer to land the job of your dreams.
INTERIOR DESIGNING
Interior designing is the art or process of designing the interior decoration of a room or a building. It is a profession where creative and technical solutions are used inside a structure to create an interior environment that improves the owner's culture and quality of life while also making it aesthetically pleasing. It is the only method for the owner to transform their home into their ideal home.
Initially, people believed that outward designing was the most significant factor, but with time, they came to recognise the significance of inside designing as well.
A building's interior should fulfil its intended function. Actually, the growth of society and complicated construction has led to the profession of interior design.
Efficient utilsaiton of space, well being of user, functional designs etc. has contributed to the development of the interior designing profession in Kolkata.
Modern Interior Design, Contemporary Interior Design, Art Moderne Interior Design are the types of interior designs.
The term "modern interior design" describes a simple, uncluttered aesthetic that first appeared in the late 19th century. Modernism, in its most basic form, is a carefree way of living. Designers reduced the amount of décor and focused on industrial materials. Secondly, contemporary design emphasises greys, beiges, and white tones while embracing minimalist aspects.
Smooth, careful, and covert touches highlight a curated aesthetic. With designs that are focused on function and simplicity and low on collections and bother, contemporary style gives an apartment with "everything in its place." Thirdly, the 1930s saw the emergence of the Art Moderne architectural style, often known as Streamlined Moderne. The emphasis of the architectural design was on curved shapes, long horizontal lines, rounded corners, flat roofs, horizontal bands of windows, and plain, undecorated walls.
Interior design styles show us how it changes over time. It is extremely important to our modern way of life and contributes to the growth of the interior design industry in Kolkata.
Interior Designing as a Trend setter for Modern Lifestyle
Interior Designing is the art and science of understanding peoples behaviour to create functional space that are a aesthetically pleasing within a building. Today, everyone wants to live in or be in an environment that is opulent, practical, aesthetically pleasing, etc. These desires are fulfilled through the interior design process. Therefore, this is the reason for the immense growth in the demand for interior designing institute in Kolkata. It a trend setter for all. Perhaps it might be anyone's home, workplace, club, restaurant, shop, etc. interior designing is a must.
People are drawn to the inside of commercial spaces like bars, restaurants, stores, and other establishments first, which indirectly boosts those spaces' sales. If we talk about official places, if the interior design is pleasing then the employees are more likely to offer their all and work efficiently and it will also elevate the overall productivity of an organisation.
Again, if we talk about a private property then we can say people living inside a house feel happier and more pleased if the interior design is appealing. Thus, it can be stated that interior design increases not only comfort but also other elements like sales, satisfactions, and pleasure.
MAKING THE DREAM OF A GREEN SPACE A REALITY
Your design will express your own individuality while fitting your budget and lifestyle. Once you are completely content and happy, the interior designers will execute your concept. You can achieve the interior of your desires with the aid of interior design. Giving your home a colourful appearance will help you realise your dreams and raise your standard of living. Having a gorgeous interior design has several benefits.
The phrase minimalism is widely used in today's society. The art of minimalism is using as little materials as possible to create an eye-catching appearance in a building's interior. By utilising methods that make the interior space appear more spacious on the one hand while also being appealing on the other, minimalism in interior design refers to the idea of making interior design in the simplest form possible. As an illustration, consider how to arrange elements like lights, drapes, fans, and other items so that the interior area appears welcoming, tasteful, roomy, and appealing. The designer originally planned the location of the objects, their colours, their patterns, etc. in accordance with the needs of the user, but it now appears to be reality.
Enroll in the top interior design programme in Kolkata to learn about all these features and forms of interior design.